Send Inquiry
Infrastructure

Manufacturing Facility

With a capability to manufacture top class road safety products for the Indian transport sector, Rosmerta has an edge when it comes to giving its customers the best. Our expertise in diverse engineering assures you of the best quality products and services while adhering to ISO 9001:2008 quality standards.

Established in the year 2007, Rosmerta has a state-of-the-art manufacturing plants pread over an area of 20,000 square feet at Parwanoo (Himachal Pradesh) for speed governors & GPS based vehicle tracking systems. As on date, the plant actively produces over 90,000-1, 00,000 units of speed governor(s)every month. It is equipped with production halls, testing facilities and assembly centres. The quality and the reliability of the products are accurately tested by our committed and skilled workforce.The speed governors are certified as per AIS-018, AIS-037(COP)(Conformity of Production)& AIS-004 PART 3 standard: An Indian Automotive Industry standard. The facility also adheres to ISO/TS 16949 quality standard.

There is a strong commitment to meet the supply volumes in the market, as all our manufacturing processes sync up very well. The production capacity of our Parwanoo plant is upgradable to 2 Lac (with additional manpower), and we are always eager to up it each passing day.

Rosmerta constantly strives for excellence to further innovate and deliver value to the customer through consistent improvements in its product and service portfolio. Our 'Supreme Quality Policy' keeps us motivated to set new benchmarks in the industry, which makes us a world class supplier of road safety technology solutions in the country.

Product Portfolio

We are manufacturing, exporting and supplying a wide range of products that are highly innovative and best in the industry. Manufactured after extensive, research and development, our road safety solutions enjoy a great demand in the market.

Our extensive experience in the automotive component sector has enabled us develop the following products:-

GPS Enabled Auto & Taxi Fare Meters
Cable (Actuator Type) Speed Governor MSG CT-9
Fly By Wire Type Speed Governor MSG FBW-99
Fuel Control Speed Governor MSG LUC-9
Vehicle Tracking System (VTS)
Quality Assurance

Rosmerta's Quality Management System (QMS) has been crafted & architected with a view to provide world class products, solutions & services to clients both in domestic & international markets. We maintain a 'Supreme Quality Policy', which makes us a distinguishing player in the information communication technology domain. Even our partners benefit from this association, as we are amongst the top companies that never compromise on quality.

All Rosmerta products & solutions as well as managed services meet the highest quality standards in the industry. We never leave even a single stone unturned in meeting relevant certifications that the state government(s) deem fit. Our products not only meet the most appropriate standards in our home country, but we also keep up to the quality certification requirements of the international markets.

Rosmerta complies to the following certifications & standards:-


CMMI Level 3/ISO 9001:2008/ ISO 27001:2005/ ISO 20000-1:2011 Certified/ISO TS 16949
Our Speed Limiting Devices(SLDs) comply to ARAI (Automobile Research Association of India) applicable standards which are validated & approved at ICAT (International Centre for Automotive Technology) for following standards:

AIS018(Specifications)
AIS037(Conformity of Production)
AIS004(EMI/EMC)

Rosmerta is registered with Ministry of Communication & IT for setting up of Domestic OSP ("Other Service Provider") Centre
Various Rosmerta products are also compliant to European Standards (FCC, CE, RoHS, PTCRB)
MSG Speed Governor has been approved on over 1800Indian vehicle models & their variants. The approval has been provided by ARAI, Pune / iCAT, Manesar. Till late, we have received the highest number of approvals from government testing agencies, and are an undisputed leader when it comes to being the most credible player in the automotive component sector. Also, we have the ability to carry out laboratory testing and performance checks on vehicles, owing to our impeccable experience in the industry.
Research & Development

Rosmerta is fortified with a world class R&D that conducts unmatched and competent lab tests and field trials on products. Backed by a rich experience and expertise, the team of 200 professionals possess an impeccable understanding of their respective domains. They handle a variety of projects, and come from varied backgrounds such as electrical, electronics, mechanical, firmware & software.

At Rosmerta, it is our unique endeavour to set our eye on future and innovate technologies with supreme quality standards. Our in-house R&D set up is capable of creating new products where the entire product lifecycle is divided into stages of research, conceptualization, designing, prototyping and manufacturing. At Rosmerta, we don't just build product &solutions, rather we are architects of innovation. After seeding the concept, we build upon a promising compliance model making sure that we follow stringent quality measures.

Our R&D unit is furnished with latest state-of-the-art equipment & tools for development of all types of software & hardware. The department is able to research and analyse new products needed in the market thereby keeping pace with emerging trends in the industry.

Engineering disciplines at R&D:

Mechanical
Electrical
Electronics
Firmware
Software
Quality, Validations & Compliance(QVC)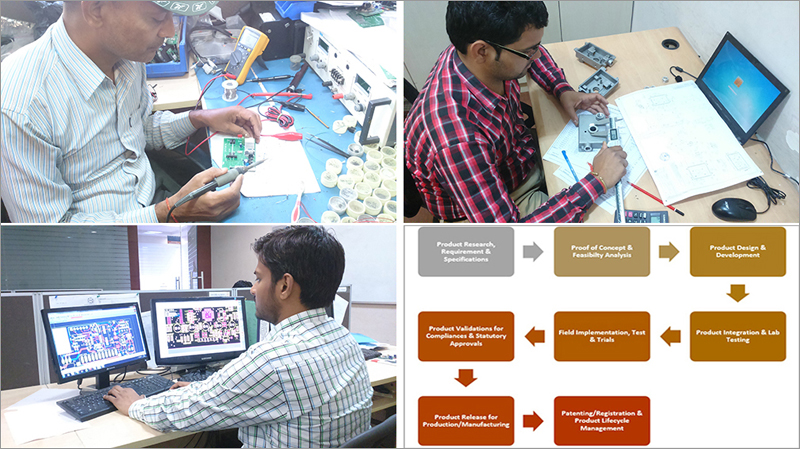 Technology & Training

(T&T) has been incorporated an integral part of Rosmerta's R&D function. An innovative group of professionals are spearheading technology & training for distinct products, solutions, and services. As torch bearers of futuristic technologies, the objective of training is not limited to Automotive domain, GSM/GPS, e-Governance, latest Hardware & Software Technologies; but also to keep upgrading the skill sets of the existing manpower through quality learning & training sessions.